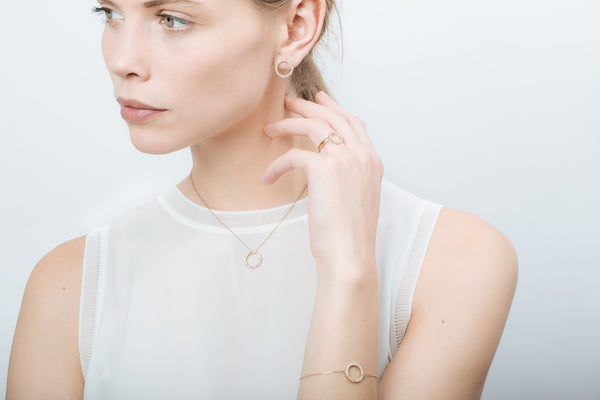 Like the women who wear AUrate, we don't stop and rest on our laurels just because a job is 'done'. Rather, we extend ourselves a little further, pushing the limits so that we may continue to achieve and embrace what is next to come. We are driven by constant innovation and progression, fueled by the inclination that women should always have the choice to find exactly what they want. It's why we continually update our collections, steadily offering new and contemporary pieces with timeless appeal. We revel in expanding the opportunity to find the perfect piece or fit, and so it is with great delectation that we unveil our newest arrival: the Diamond Circle Collection.
Diamond Circle Necklace, $850 
Extending to a ring, necklace, earring, and bracelet, our newest collection centralizes one of our fundamental geometric shapes - the circle. Delicately elevated by brilliant cut diamonds, the circle is designed to comfortably sit against the skin while providing subtle glints of sparkle. With contemporary yet timeless stylings, the necklace, earring, and bracelet all feature an exquisite 14mm-diameter diamond circle, while the ring features a slightly more delicate 12mm diameter. Careful attention was paid to size during the design process, ensuring each piece offers seamless movement and integration with the wearer. And because we firmly believe in the power of choice, each piece within the collection is customizable, available in yellow, white, and rose golds, and with the option of white or black diamonds.
Diamond Circle Necklace, $850 | Diamond Circle Earrings, $1350 | Diamond Circle Ring, $750
Modern yet refined, the newest collection is designed to enhance and not overbear, to be worn in a way that is truly unique to each individual. All four pieces can be worn together for cohesive, classic style, while subtlety can be channeled by simply adorning one piece. For those longing for a more contemporary, forward look, stack and layer with contrasting shapes and bold lines. No matter how it's worn, it's clear the Diamond Circle Collection is destined to become a new classic. And a brilliant one at that.
Diamond Circle Earring, $1350 | Diamond Circle Bracelet, $800