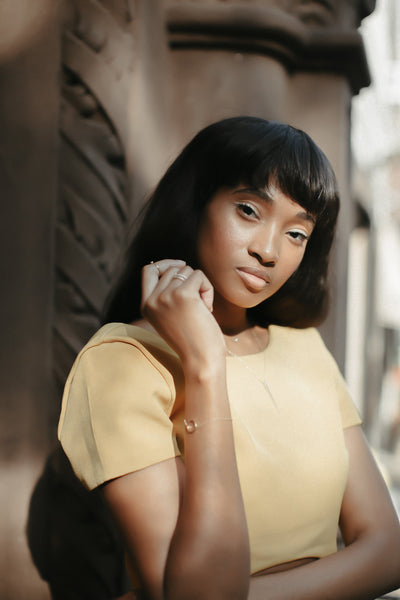 If New York City is a melting pot, throw us in...at Aurate all of our gold is born and raised in NYC. We draw inspiration from the bustling streets, the cacophonous soundtrack, the thrilling energy. So it comes as no surprise that when we met fellow NYC addict and fashion lover Candace Marie Stewart, we quickly bonded.
Though she was born in Oklahoma and raised in Arkansas, Candace grew up visiting New York knowing one day she'd make her move -- and that she did nine years ago (we don't blame her). Instead of mixing into the melting pot, however, Candace rises to the top through embracing her every individual characteristic. Having worked for countless fashion brands -- currently running Social Media at Prada -- Candace channels her success in fashion to championing people of color behind corporate walls, where a change is needed most.
Hi Candace! Can you tell us a little about yourself? I was born in Oklahoma and raised in Arkansas. Such a cliche thing to say, but I've always had a passion for all things style and fashion. I moved to NYC nine years ago and have not looked back since. After years of hard work and finding the things I loved about the industry, I developed my career around social media in the luxury fashion space. It's a very niche area, but it's a very necessary one as the the way consumers think about shopping in the digital space.
What role does jewelry play in your everyday? Jewelry plays an important part in my everyday life. I feel that it puts the finishing touches on a look. Often times, if I forget to put on a necklace or a bracelet, I feel incomplete.
Do you wear any staple jewelry pieces that have symbolic meaning to you? I have a few brooches that my great-grandmother gave to me. I absolutely love them, but I don't wear them too often, as I'm so nervous to lose them - but when I do it's always with a power suit.
Jewelry, as an extension of style, is such a pure form of self-expression. What does yours say about you? It says that I'm unique and different.
You're originally from the South. Tell us how you made your way to NYC! I used to visit NYC every summer in college with my best friend at the time. I fell in love immediately when I came. I always found back at home I didn't fit in, but when I came here everything made so much sense.
With leading such a busy personal and work life, do you have any at-home relaxation rituals you live by? I'm big on taking baths! I love to light a candle, listen to music and just soak. Me time is so important to me and relaxing after a busy day is necessary.
Do you feel encouraged by the growing emphasis on diversity within all industries, especially in fashion? How do you think we can continue to progress and change for the better? I do. We have a long way to go, but a lot of progress has been made. I think by including more POC within the walls of bigger corporations and making sure they have the power to make change - that's a great start.
Style evolution and self discovery can be very much correlated. How did you find a greater sense of self and what was that journey like for you? I think moving to New York helped me fully evolve and discover who I was. The move helped me feel more "at home" in a sense, even though I've tried to live out who I truly was from such a young age.
Often times, jewelry has been marketed for decades as a gift you receive from someone else. We're changing that narrative. Today's jewelry is a gift to oneself, a celebration, be it for the everyday feats we as women conquer, or the milestone moments. How do you take time to celebrate yourself?
 Sewing into myself whether it's financially, timing wise, meditation, traveling, spending time with family, etc. These things seem small, but they make a huge difference.
Where do you look for inspiration? Do you always find it in the same place? My nieces and nephew. They inspire me to keep on going when things are difficult or seem impossible.