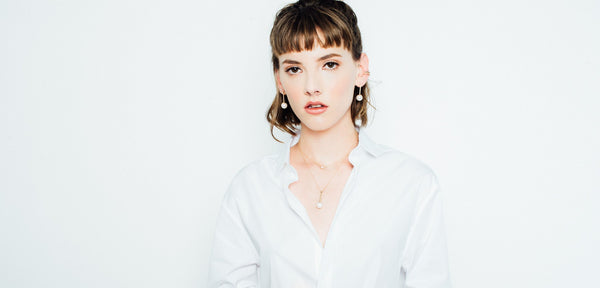 Our next Orator is not a new face to AUrate - in fact, she is one of THE faces of AUrate. When we held our photo shoot with Lindsey late last year, we were more than impressed - not just with her modeling capabilities (we're sure you all agree she looks striking in every photo), but also with her friendly attitude and strong work ethic. So much so, we just had to get to know her a little better. And with her dedication to helping others in the industry, volunteering with wolves (yes, wolves!), and hanging out in some of the coolest spots in the city, it's no wonder Lindsey left a definite impression on the AUrate team.  Read all about it in the interview below.
Tell us about your work…
Modeling is my full-time job, but I also just became a licensed holistic nutritionist. I'm working with (modeling) agencies as their on-call holistic nutritionist, so for the girls that might not be able to see a doctor - if they are from overseas say and it's too expensive - they can call me and I can give them an all-natural alternative to help them feel better. I have always been into nutrition, all-natural medication and eating, and I realized you could be licensed - it's really nice, and fun!
Are there any causes or charities that are close to your heart?
I recently started working with Howling Woods, a wolf sanctuary based in Jersey. I am obsessed with wolves - they're my favorite thing in the whole world! They have the largest wolf sanctuary in the US; you can volunteer, play with the rescued wolves, feed them, and take care of them.
How long have you been in New York?
For two and a half years. I'm from Tampa, Florida. It's nice - I miss the sea. But New York is unbeatable, it's the best city in the world. It's super convenient, easy and fun, and the work is great. So I am based here normally but I spend half the year in Europe and half the year here.
What's your favorite place in the city?
Oh, that's a hard one! I try to go to the galleries as much as possible. If I can just walk through for a second I love to do that. Or a couple of coffee shops in Soho, like Saturdays - which is my favorite - I've been practically living there since they opened. There's also this amazing restaurant I go to all the time called Quality Eats. It's amazing, you guys would love it!
What's a book you've read recently that everybody should read?
I'm a huge Game of Thrones fan - a huge nerd. And since the last season ended, I decided I would read all five books because I've never read them. I know everyone says 'oh the book's better than the show', but really they are 20 times better. If you haven't read them you 100% should. I also love Charles Bukowski, and any philosophy book really.
If you could go back in time to when you were first starting out, what is the one piece of advice you would give yourself?
That's also a hard question. I would tell myself not to worry. Travel as much as possible, don't say no to the opportunities of traveling and going somewhere. And take better care of your health. Stay healthy and don't worry - it'll all be fine. And keep traveling as much as possible!
And finally, is there someone that you really look up to, or someone who inspires you?

I love Vivienne Westwood, I think she's great. There is a small brand here in New York called Ohlin D and the designers are super amazing. I also love Alexa Chung. She does her own thing and doesn't care about anyone else. She's still super cool, even cooler as she gets older. She shows everyone that, no matter what you're doing, if you are yourself, it's cool. It sounds really cheesy but it's true.
Photographer: Sasha Lytvyn | Model: Lindsey Davis
Lindsey wears (above image): Tapered Solid Necklace in 14k White Gold, $11,500 | Icon Earring in Yellow Gold, $180 | Crossover Bracelet in 14k White Gold, $2,500
(Cover image): Proud Pearl Earring with White Diamonds, $1300 | Large Diamond Pendant Necklace, $1300 | Proud Pearl Pendant, $900