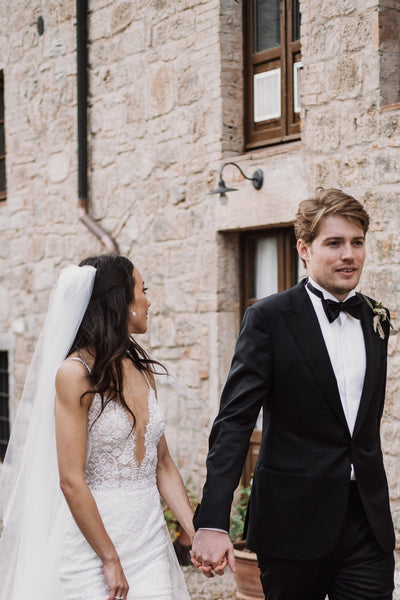 You're Invited


This month, we wanted to do something special for our customers to celebrate the upcoming wedding season. We invite you to enter our contest for a chance to win products that are perfect for wedding receptions, bridal showers, and engagement parties. AUrate paired up with a bunch of cool brands (Onomie, Cosabella, Minted, beGlammed, and Paper crown) to put together the ultimate bridal essentials. We will be gifting our 14K yellow gold Flower Ring Open With White Diamonds, the most beautiful and fitting ring to accompany you to any wedding.
A supporter of our designs and close friend of AUrate, we recently caught up with Bo Roobol from Sea of Bees. Bo wore our Proud Pearl earrings for her wedding day, which took place in Tuscany. Originally from Holland, Bo moved to Manhattan in 2013 when she started a blog to document her adventures abroad. She describes herself as a storyteller who loves sharing her experiences with loved ones and experimenting with different fashion looks. We asked Bo to share some stories and styling advice from her special day. Get to know why we love this kind and caring woman with a feminine yet edgy style who carries a sunny outlook on life.

Meet Bo: AUrate's Favorite Bride


1. Can you please tell us a little bit about yourself and Sea of Bees?

Four years ago, I moved to New York with my love. I had just graduated from Dutch law School, and it was hard to find a job. This gave me time to explore the opportunity to try something different. I started to write about my experiences living in New York, and luckily it got picked up and published. From short columns, I began to get new opportunities to write even more and what followed was an online audience. Then, I decided to launch my website, Sea of Bees, and have been taking on many writing jobs as a freelancer ever since.


2. How would you describe your personal style?

I put together my own kind of style from magazines to fashion blogs.  I love to combine different styles and vibes. For instance: I have combined a pinstripe blazer with lace flared trousers and colorful loafers. Another example is a very minimalist dress with silver strappy sandals. Overall I would say that my style is feminine with an edge.

3. Can you tell us about your favorite part of the wedding? 

My favorite part of my wedding was feeling so much love around me. Not only from my husband, but also from all of our guests who were there to support us. I have never seen so many smiles and people connecting with each other. That was just the best thing. Especially since we live so far away from all our friends in Europe and our family in the Netherlands, everyone coming together for us was the greatest gift we could have received.


4. Why did you decide to pick the Proud Pearl earrings with diamonds from AUrate for your wedding?

I wanted the earrings that I picked to be classic, but not simple. I wanted them to be glamorous, but not overdone. And, from my point of view AUrate's Proud Pearl Diamond earrings meets all of these criteria. The pearls and diamonds are traditional. But because of the design and the size of the pearl with the smaller diamonds, the pieces have an edge that I love.
Proud Pearl Diamond Earrings, $1300

5. What was your bridal style?

My wedding dress was intricately detailed with a lace pattern, embellishments and pearls. I love the idea of being the belle-of-the-ball, and my dress had the fairytale qualities that I loved. I chose to keep my accessories simple, only wearing earrings on our wedding day.


6. What do you love about AUrate?

What I love about AUrate is that all the pieces are feminine but they all have an edge. AUrate is minimalistic, but also has the va-va-voom of high-end jewelry. This combined with the quality and price-point of each piece, makes AUrate one of my favorite brands when it comes to jewelry.
We would love for all of our customers to also get the chance to be the belle-of-the ball like Bo this wedding season. Be sure to enter our contest for a chance to win essentials that will guarantee to make you stand out from the crowd.