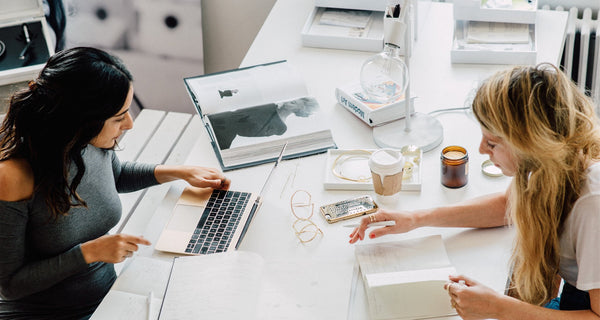 How do you feel when you hear the word 'work'? Do you jump with joy at the thought of spending 40 hours a week (and the rest!) making a living? Or are you more laid-back in your approach, seeing work as a necessary means to enjoy life? Either way, there's no doubt work plays a huge part in our lives, and that's why we're bringing you AUrate At Work.
Over the coming weeks, we will be exploring the world of work and careers, offering unique insights and inspiration to help you through the daily grind. In creating our own brand, we feel so empowered by running our business and spending our days doing something we love, so much so that we want to share that passion and encourage you to also achieve your best.
So keep an eye out for our upcoming AUrate at Work features, including style tips, insider profiles on the faces of AUrate and why they are doing things a little differently, and recommendations on some of NYC's most inspiring work spaces.
Diamond Snake Ring, $2,200 | Icon Cuff, $320 | Tapered Solid Cuff, $480 | Flower Ring Closed, $550
To kick things off, here is our pick for an inspiring, get-what-you-want read. Grit: The Power of Passion and Perseverance examines the concept of achievement, posing the notion that reaching your goals is not a matter of talent, but a matter of passion and perseverance, or as author Angela Duckworth likes to call it, grit. A great weekend read, it will have you actually looking forward to Monday mornings!
Image: Kaspar Sang Jorgensen via Facebook
Are you wearing your favorite AUrate pieces at work? We'd love to see the way you style your look! Tag us on Instagram with @AUrateNewYork and #AUrateAtWork, or drop us a line anytime.