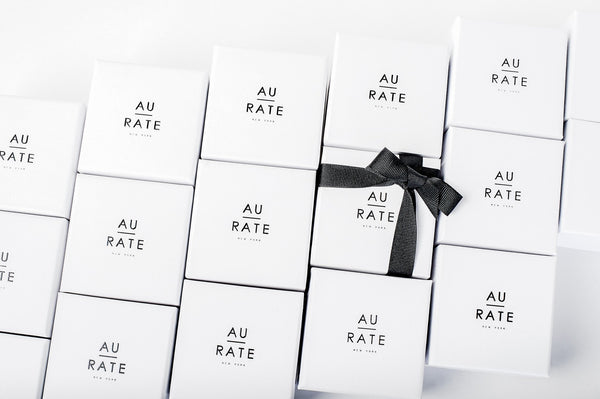 Everyone has that person in their lives, the one that seemingly has everything. And more often than not, they are the last one to cross off your holiday shopping list. But we're going to let you in on a little secret on how to shop for this person: give them a gift that supports a charity or cause. Why? Because giving back is one of the greatest gifts of all. Of course, for every piece of AUrate jewelry purchased, we donate a book to a child in need, so if you haven't checked out the AUrate Gift Guide yet, we recommend you do. And if you're looking for something a little extra to pair with your gift of AUrate, look no further than the below. 
Laughing Man Coffee
One for those who can't do without their caffeine hit! Laughing Man Coffee is the Hugh Jackman-owned cafe that acts as the meeting point for many a Downtown-dwelling, flat-white loving New Yorker. Located in the trendy neighborhood of Tribeca, 100% of the profits from Laughing Man coffee go to charity. We know not everybody can make it into the coffee shop for their morning brew, so why not give the next best thing: Laughing Man Coffee pods for their home brewing machine.
Kiehl's Collection for a Cause
Kiehl's has deep roots in New York, having started as an apothecary in the East Village more than 160 years ago. We think their pamper-worthy collection of products are simply bliss-inducing, and with their Collection for a Cause, you can give the gift of beauty and help feed the hungry. Partnering with Brooklyn-based artists Faile and hunger charity Feeding America, each Collection for a Cause enables the provision of 415 meals.
Tory Burch Foundation Seed Box
For any lover of New York fashion, the Tory Burch Foundation Seed Box offers a selection of products from brands helmed by female entrepreneurs (including Tory Burch herself). The proceeds from the sale of this gift box are donated to the Tory Burch Foundation, which supports and empowers women entrepreneurs - a woman after our own hearts!
The Starling Project Candle
What is more delightful and soothing than the flickering flame of a beautiful candle? A candle hand-poured in Brooklyn that also supports the development of solar power for communities without electricity, that's what! And The Starling Project candles are exactly that. With a select range of divine scents - such as Currant + Rosewood or Juniper + Saffron - these candles are also incredibly chic with their minimal black and white design.
Warby Parker Gift Card
Known for their avid support of vision charities with their 'Buy a Pair, Give a Pair' program, Warby Parker is the go-to brand for New Yorkers (and beyond!) who are seeking out fashionable glasses without the inordinate price. We know buying a pair of glasses for someone else is nigh on impossible, but a gift card makes that impossible feat possible. And when the gift card comes in a charming gift box and a limited edition Rubik's cube designed by artist Sue Doeksen, buying this gift for is not just a possibility, it's a definite!