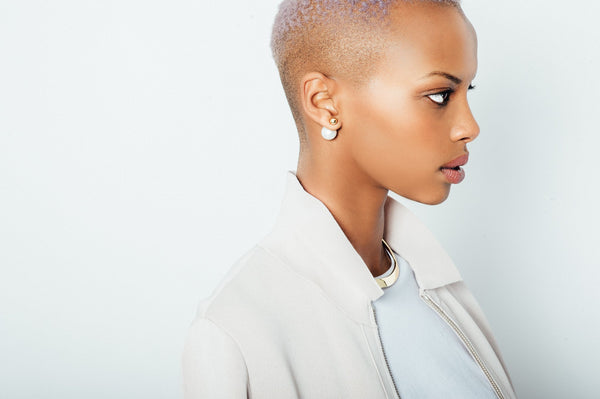 'Casual Dress' - when it comes to navigating workplace dress-codes, this may be the most difficult to decipher, for one woman's 'casual' may well be another woman's 'best dressed'. And when you do finally have the code figured out, it's so easy to fall into a style rut, continually reaching for the same ensemble day-in, day-out (hello jeans and cashmere sweaters!). But with the addition of two or three modern basics, plus a healthy mix of gold, diamonds, and pearls, you'll have an elevated casual wardrobe in no time. Casual does not have to equal boring, after all.
Proud Pearl Earrings, $1300 | Proud Pearl Pendant, $900 | Icon Cuff, $320
To start, opt for a lightweight jacket in the new neutrals - dove gray, pale pink or off-white. Pair it with your favorite denim, or take the look even higher with of-the-moment cropped trousers. Let your jewelry add a subtle edge - try the Mini Earcuff in both White and Black Diamond variations and contrast them with the Proud Pearl Earring. Layer the Large Diamond Necklace with the Proud Pearl Pendant, leaving your jacket slightly undone so as to frame your adornments. A delicate cuff on each arm -  we suggest the Icon and the Skinny - will bring the look together, as will a pair of monochromatic kicks or a classic horse-bit loafer. A simple variation on this look? The Crossover Necklace continues the theme of modern minimalism, as does an array of delicately stacked rings.
Crossover Necklace, $480 | Skinny Cuff, $980 | Mini Earcuff with White Diamonds, $480 
Looking for something a little more low-key? We get it - sometimes you just want to wear your favorite tee! And it's easy to add a touch of sophistication without looking too overdressed. Simply team your tee with a wide-leg trouser or a tapered modern jogger. Keep it effortlessly understated - but elevated - with the Asymmetric Pearl Earring and Collar Necklace. Don the Diamond Ear Cuff in the alternate ear, and add the Crossover bracelet into the mix. Stacked rings are again a never-fail option, but consider also adding diamonds for a little more excitement. A perfect complement can be found in the Open Pearl Ring with Diamonds, or, for a little more attitude, the Diamond Bar Ring - it's the easiest way to channel casual cool.
Asymmetric Pearl Earring, $580 | Collar Necklace, $550 | Diamond Bar Ring, $800
Photographer: Sasha Lytvyn | Models: Lindsey Shand & Yseult Polfiet