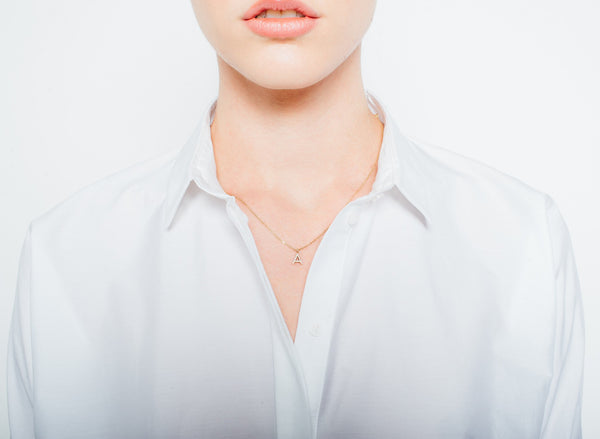 Introducing the newest addition to the AUrate collection: the Mini Letter Charm Pendant. Perfectly poised to accentuate individual style, the Charm Pendant is hand-crafted in 14k gold and set on a delicate gold chain, enhancing the piece's subtle yet finely-detailed design sensibilities.
 Available in all 26 letters of the Latin alphabet, each pendant is custom-created, giving each piece that extra-personal touch. With ultimate versatility, it is available in yellow, white and rose gold, and channels sparkling simplicity with the inclusion of stunning 1mm white or black diamonds.
Mini Letter Charm Pendant with White Diamonds, $500
For understated sophistication, coordinate with streamlined pieces such as the Mini Gold Bar Earring and Crossover Ring. For something a little more decorative, add extra embellishment with the Mini Earcuff with White Diamonds. And for the ultimate in personalized style, instead of just one pendant, layer two. Select a letter that represents you, and another for someone you love. Think of it as radiant, sparkling bliss, intersecting at a point close to your heart. Not ready for that kind of commitment? Slip on the Diamond Bar Pendant for a flawlessly individual look.