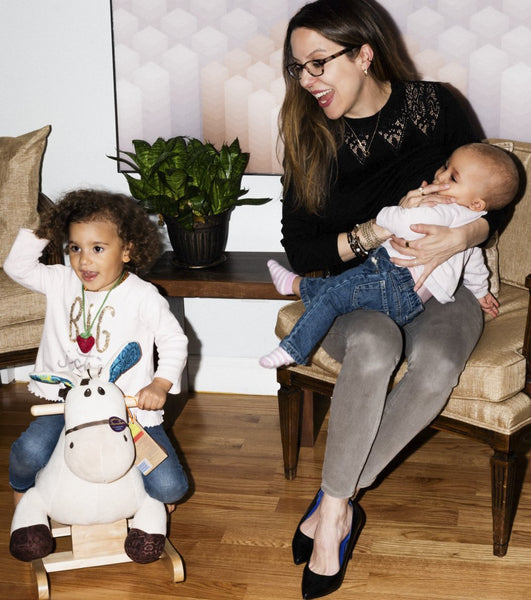 There's a scene in The Devil Wears Prada in which Miranda Preistley returns to the office suddenly and without warning. Garment racks are wheeled at warpspeed, computer cameras are used to apply lip liner, and a woman changes from sneakers to heels underneath her desk. It's the type of mayhem we all know too well and highlights the decision we women are forced to make on a daily basis: sneakers or heels. If your name is Antonia Saint Dunbar, you choose the latter. If not, we support your choice to walk without mind-numbing pain and live a blister-free existence. Rather, we did. Before we met Antonia.
Height aside, she is the type of woman who does not need heels (ironic, considering she is co-founder and CEO of a women's shoe company). She bursts with the personality and vibrance that refuses to be ignored and fills each room with the radiant warmth that otherwise only comes from three hours of hot yoga or an oven full of apple pie. She is comfort incarnate (ironic, again, considering her shoe company is focused on bringing comfort technology to women's heels). All in all, we jumped at the opportunity to walk a mile in this Mother of Comfort's shoes.
Name: Antonia Saint Dunbar
Title: Co-Founder/CEO Antonia Saint NY, Co-Founder THINX, Icon, BK Shoe Factory, Fall & Fly
Title you would give yourself: MamaYogiEntrepreneurCellistLoverofLifeandSynchronicity
What you wanted to be growing up: I was raised to be a classical cellist, but I really wanted to act. Claim to fame - A writeup in the Chicago Tribune, and getting to the 5th round of auditions for Sister Act 2. I never in a million years thought that I'd end up making hi-tech heels and flats that feel like sneakers inside with Antonia Saint NY, and underwear solutions for women with THINX and Icon, but here I am. Life can be very unexpected!
What you still want to be when you grow up: A creator of long-standing solutions and companies that not only empower and support women, but helps to change the policies that currently hold women back, while also driving sustainable innovations for the benefit of our planet.
What gets you out of bed in the morning: The need to meditate, do yoga and get a kick start on my day (and emails!) before my two little girls (9 months old, and 3 years old) wake up and the day begins.
Favorite piece of art: Any of the abstract paintings my father Russell Dunbar made that are so rich with geometry, light and color. He was an industrial designer, and one of the Chiefs of Design at GM. He is where I get my DNA for creativity and product design.
How you stay motivated: Hearing positive feedback from customers of our hi-tech shoe company Antonia Saint NY, and when someone shares that they can never wear another heel after feeling how amazing ours feels. Also seeing the planet change before my very eyes, and knowing that I must do all I can to help protect it.
What giving back means to you: Giving back means using this precious human life well, and making a difference in whatever small or large ways that I can in my own personal sphere of interactions, as well as through the service of my companies.
What you wish to pass down to your children: The belief that each one of us is a change-maker, and that one person can truly change the world.
Your favorite AUrate piece: Every AUrate piece is gorgeous, and the way you can mix and match pieces makes them a unique presentation that you can wholly own and personalize. I love the new Diamond Infinity Capsule as it resonates for me in being both modern and classic at the same time.
**Antonia wears the Diamond Infinity Hoops, the Bold Ear Cuff, and the Halo Diamond Opal Ring