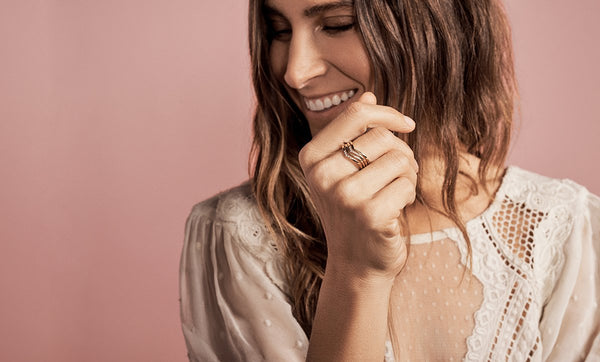 "Every day I'm learning more and more about the power of women, both as individuals and as a united tribe." 
Hey Nicole, can you share a few words about yourself?
I am Nicole Fasolino a New York City based stylist, creative director and sustainable fashion activist. I co-founded The Future Is Female Movement, a platform to inspire, collaborate, activate and raise awareness around social issues.    
Can you tell us something original about yourself?
I've been drawing little red hearts around NYC streets for nearly 7 years. Along with my son, we draw little hearts paths along our daily journeys - love reminders for us, for strangers, for good energy.   
What did 2018 mean for you and for The Future is Female Movement?
2017/18 have been really challenging years for us as American, so I'm not alone when I say it's been a rough time for me. TFIFM was a way to feel less alone and find likeminded people who won't give up the fight, who will continue to believe in what's right. Every day I'm learning more and more about the power of women, both as individuals and as a united tribe, and with that comes more opportunity to build a stronger future. At times I think we all have felt like we're breaking but really, I think the world is just waking us up and showing us what's real and worth fighting for. The shift is energetic.
How do you balance your personal life and professional endeavors?
It's an endless balancing act but I've learned to run my household very efficiently. I ask for help, I power off when I'm with the kids, I take time alone & I work on projects that fill me with prideful excitement. I think that's really important and something no one teaches you when you're young & putting in your dues. It's important to know what you're passions are and to follow them. It will keep you balanced knowing you're doing what you deeply believe in. I'm less tired even after working 18 hour days because passion fills you with positive energy.   
What is the best advice you ever received?
Never say no. My mom wouldn't allow me to say "no" or "I can't" - she taught me that going for it might mean rejection, hardship or failure. But more often it meant getting what you want and deserve.
What makes you feel empowered?
Working alongside people with likeminded ideas and passions. As a freelancer my goal is to work on continuous collaborative projects - it's like a love affair, you give your all and feel it all, it's the most empowering feeling for me.
We proudly dedicated our Brooklyn Bridge Edition to Nicole.