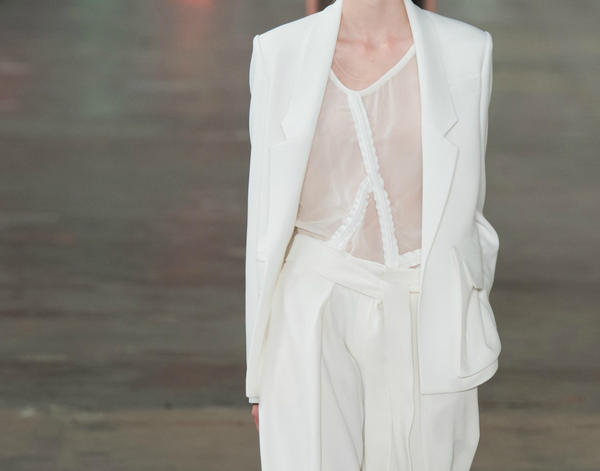 New York Fashion Week is intense. We're not talking about the crowds, the parties and the general clamor. It's the ideas, the inspiration - all that... new, all at once. Watching the runways is a rush. Whether your view is from the front row or from your iPhone, it's so much information to process. You catch some references (and suspect you're missing others), jot down ideas, try to keep track of new designers, bookmark or pin dozens of looks, and start to feel overwhelmed.
Then there's a moment. If you love fashion like we do, you'll know what I mean. Major trends emerge and you get it. It's like the sky clears. When next spring comes, this is what we want to wear.
Our favorite look from the entire season is chic, deconstructed suiting. Nothing looks more elegant and modern. Beautifully balanced between masculine and feminine, the look is a bit undone. Definitely unbuttoned, with bare skin exposed. Pinstripes are always in but we suddenly find ourselves intrigued by windowpane checks.
Look at the shoulders on the pure white Hugo Boss suit below, and then look at the paper bag waist. We're so into the sharp edges melting into relaxed shapes. You don't walk in an outfit like that; you stride, you glide.
 Left to right: Hugo Boss, Gabriela Hearst, Zimmerman and Tibi. 
We saw a lot of gorgeous ice blues and a bunch of bright yellows (because you know you started craving a marigold dress as soon as you watched Hold Up). But the statement color of the season is white. Fresh for tailored pieces and for ideal for flowy outfits like the ones shown by Elizabeth & James below. We think this collection (their most sophisticated yet) captured the season's mood, and we kind of want to layer that inky silk slip over every pair of pants we own.
Elizabeth & James Spring 2017 Lookbook 
The coolest casual looks riffed on these same themes: white on white, shirting fabrics and loose versions of classic tailoring. But everything went slouchier (yes, please) and got mixed with athleisure pieces and details. 
Left to right: Alexander Wang, Phillip Lim, Lacoste and Rag & Bone.
Clean, minimalist looks like these are the ideal blank canvas. A white suit with a striking, gold statement necklace? Perfection. (Come on, you knew we were going to say it!). Some designers send models out with little to no jewelry- nothing to distract. When you get dressed in real life, jewelry and accessories are what make the look your own. 
So, here are our jewelry picks to go with our favorite runway looks:
 Left to right: Collar necklace, Feather Ear Cuff, Flower Necklace Closed and Asymetric Pearl Ear Jacket.
Check out all our statement jewelry here. And stay tuned... next time we'll tell you all about the most exciting new trend from our own new collection.