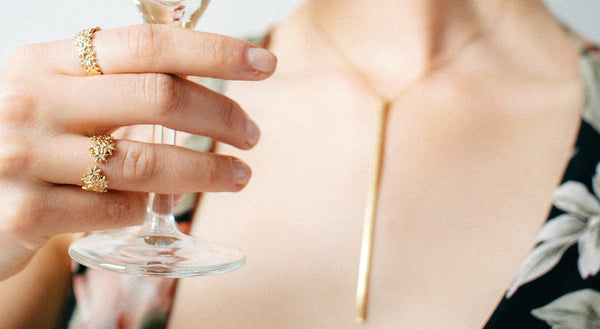 Wedding season rages on through late summer and into early autumn. There are memories to be made - it's crucial that you show up as the best version of yourself. So, keep that momentum up! We created this uber-romantic look to inspire you, and to show off our new Flower Collection of gold jewelry.
We're known for our minimal take on gold, but this summer, we debuted our most whimsical designs ever. Tender clusters of tiny, diamond-studded wildflowers to set a dreamy mood.
Florals look most striking worn with a bit of an edge, agreed? Though wedding guests are generally discouraged from pairing floaty summer dresses with engineer boots or a motorcycle jacket (a look we've loved since college), but you can still create contrast while keeping it elegant. This season, dark backgrounds keep lush floral prints from looking too sweet. A perfect example: this seductive number from eco-friendly fashion line, Reformation. Moody florals will continue to trend through autumn, so if you're dressing for an event in cooler weather, check out the long-sleeved Thea Dress.
Go ahead and pile on multiple pieces of jewelry from the same collection for dressed-up vibe. Mixing in a statement necklace, with strong, geometric lines, keeps this look modern, not matchy-matchy. Always wear fine jewelry in a way that feels like you. Try this: don't take off your everyday, signature pieces of delicate gold. Instead, experiment by adding bolder pieces that riff on the same theme.
This look features the Flower Climber and other pieces from our Flowers collection, along with our Long Bar Necklace.
We kept hair and makeup simple and polished. There's nothing more chic than the confidence of a nearly bare face for a formal occasion. Project confidence!
Are you wearing your favorite pieces of AUrate gold to weddings this summer? We'd love to see the way you style your look! Tag us on Instagram @AUrateNewYork, or drop us a line any time. And if our jewelry is part of your own love story - if you wore our gold on your wedding day, received it as a bridesmaid gift, or packed it for your honeymoon, you simply must tell us and make our day (our week, our year)! We're suckers for this stuff.
Photographer Sasha Lytvyn | Stylist Jessi Frederick of Stylish Gambino | 
Model Terese Pagh | Hair & Makeup Gabriella Tipsa Bruun  | Dress Reformation