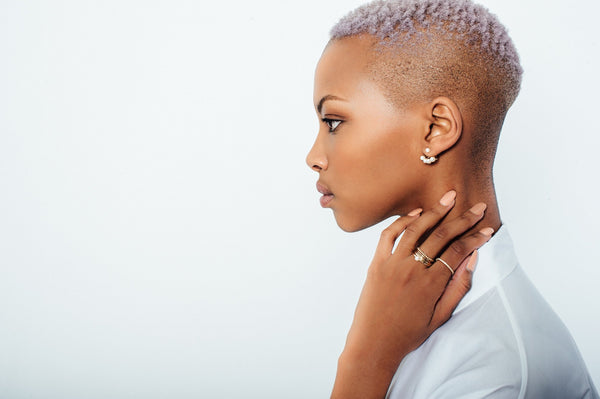 Let's challenge a notion: what does it mean to be strong? For many, the concept of strength stems from an overt activity: being loud, forceful, or audacious. But if there is one thing we've learned, it's that strength comes in all shapes and forms. One woman can own the room with her assertiveness, openly speaking her mind without faltering, while another can have the same powerful impact by carefully listening and observing, offering a quiet word of advice when the time is right. When it comes to strength, there is no 'one size fits all' solution. Rather, it's about knowing your own voice and using it in all facets of your life - at home, amongst friends, and at work.
Quadripearl Ear Jackets, $700 | Long Bar Necklace, $180 | Skinny Cuff, $980
Strength is not absolute, and it's for this very reason that we channel simplicity in all our designs. We want each piece to seamlessly meld with the woman wearing it, giving her the freedom to express who she is, in a way that she wants to. We don't mistake subtlety for weakness, quite the opposite in fact. And if you're one to work in a more traditional, corporate environment - where office dress codes provide certain caveats - this is where subtlety reigns.
Icon Cuff, $320 | Quadricolor Ring with White Diamonds, $1000 | Simple Pearl Ring, $250
Allow your work, words and actions speak to your personal strength, and further channel it with your own unique take on style. A refined, classic suit in a neutral tone will always be lauded, so let it be the foundation for showcasing your prowess. Embrace sophisticated elegance with pearls, or layer delicate chains for a hint of playfulness. Minimal can be bold, so prove it with a solid gold pendant or cuff. Derive strength from numbers by stacking a series of fine rings, and top it all off with the belief that you can, and will, dominate the day. For if there's one thing we know how to do, it's to exhibit strength on our own terms and to own the situation at hand, even if everybody else thinks they are in charge. We're women, after all, that's just how we work. 
Circle Earrings, $180 | X Cuff, $300 | Diamond Bar Pendant, $950
Photographer: Sasha Lytvyn | Model: Yseult Polfiet