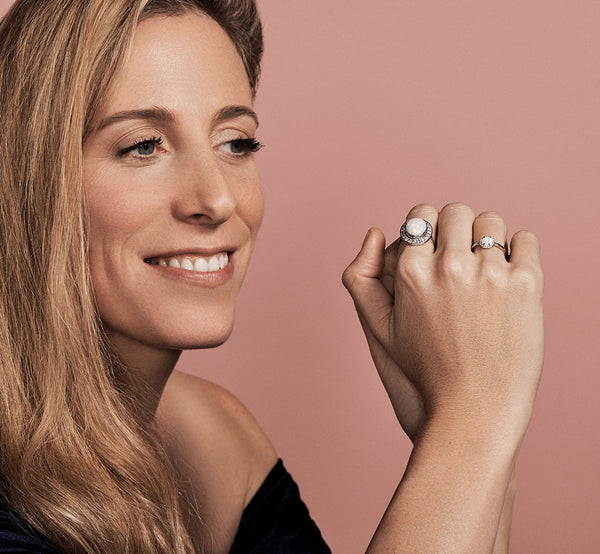 "I'm hoping to pay tribute to my grandmother and the woman that she was." 
Hey Sophie, can you tell us something original about yourself?
On the first day of Kindergarten, somebody asked me if I was a boy or a girl. I think this had a profound impact on me and might be the reason why I have such long hair. Come to think of it, it's fitting that I now design jewelry for women to express themselves and their female identity. Freud could probably have a field day with this one.  

How do you balance your personal life and professional endeavors?
Being an entrepreneur who loves what I do, there's no such thing as work life balance for me. Instead, it's about "work life integration". Basically the two flow over in one another. Before this sounds sad, sociologists actually have done research into this and discovered that people where the lines between work and personal are blurry are in fact happier since it's often indicative of the fact that they've found a fulfilling profession. Basically I'm lucky enough to be able to work on something that's so exciting that I like to do it all the time - it's part of who I am.  
Why do these pieces feel special to you?
The beauty of jewelry is that it's very personal, it tells a story (which is also where the name AUrate comes from, meaning orator, or story-teller) and lasts through generations (as long as it's real, that is). So Bouchra and I thought it only fitting to create a collection that was personal to us and close to our hearts. I designed the Opal Collection based on an opal ring I inherited from my late grandmother whom I adore for many reasons (and whose ring I wear daily). I'm hoping to pay tribute to her and the woman that she was.
What is the best advice you ever received?
I think this one comes from my dearest mother, who is very down to earth and practical. Basically, loosely translated (since it's in Dutch), she says it's "an art-form to get it the way you want it". In other words, YOU are in charge of the situation. This feels very empowering to me, and I always listen to it. If I'm bothered by something or not happy with the situation, I take it on myself to fix it (or accept it). Action and power, basically. ;-) In fact, feels very fitting with our "Ode to Woman" theme.