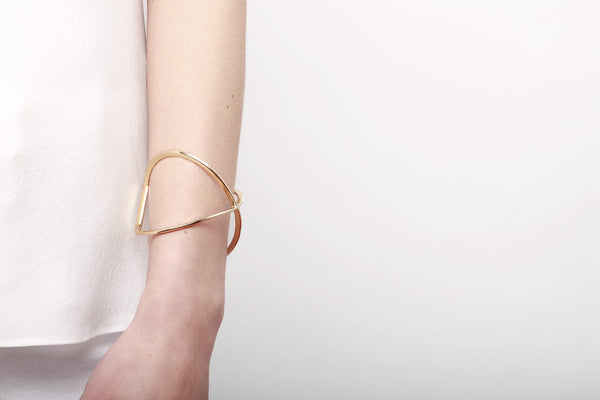 A change in season is always thrilling, it's a marked opportunity to explore the new. And no season evokes feelings of rejuvenation and fresh opportunity more than Spring. As the days grow longer and the sun shines brighter, one can't help but feel invigorated by the abundance of possibility. No longer confined by cumbersome snow boots, heavy wrap-around coats, and layers upon layers upon layers, it's exciting to once again embrace our personal style, knowing that it won't be hidden by the cocoons of winter. And this Spring, we're all about channeling that classic, easy style made famous by the women of New York.
Rose Gold Bar Necklace, $380 | Icon Earring Rose Gold, $180 | Rose Gold Quadricolor Ring with White Diamonds, $1,000 | Blazer Image courtesy of Aella
Of course, we love experimenting with new trends - ruffles, soft hues and 'modern romance' vibes are all on our radar - but after a dreary and cold winter, simply wearing an ensemble of elevated basics out in the open feels so refreshing and liberating. All it takes is a basic tee, form-flattering denim and a hero piece of jewelry or two, and you have a look that epitomizes the very definition of New York's laid-back elegance.
For a modern twist on classic style, we relish an all-white palette. Team a white tee with white denim and create interesting focal points with hints of rose-gold - the X Cuff and Icon Earrings are ideal. Or, for that quintessential New York style, sport a plain tee with indigo denim, adding a Gold Bar Necklace and Quadricolor Ring for a touch of splendor. Top it off with a blazer, the ultimate power player when it comes to effortless style, and revel in the knowledge that this look will take you through any setting: from office to bar, from day to night. Because as every woman living in the Big City will tell you, you have to be prepared for anything. And with a classic, go-anywhere Spring outfit like this, you will be.
In need of wardrobe makeover? Win the ultimate Spring outfit valued at $1,000 thanks to AUrate New York, Aella, Industry Standard and Wala Swim. Click here to enter and find out more!