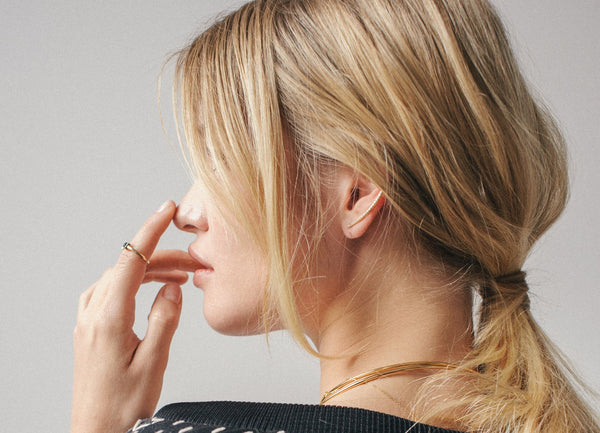 Giving back is an intrinsic part of AUrate, a core value that permeates everything we do. We've made a commitment to give back with every piece of jewelry purchased through our 'A Book For Your Look' program, and we extend this commitment by seeking out even more ways to give back to the community. And as we delve into the world of work, providing tips, unique insights and inspiration, we think it's only appropriate to offer a few ideas on how you can support other women to achieve success. So here are three charitable organizations whose purpose is to help women get ahead - in their careers and in their lives - and whose tireless work is making a real difference. We love giving a voice to organizations who are effecting positive change, and if distance prevents you from helping these particular organizations, we hope that highlighting them encourages you to seek out similar, like-minded organizations closer to home. 
Bottomless Closet NYC
Bottomless Closet helps economically disadvantaged women in NYC transition into the workforce. Not just limited to providing high quality, work-appropriate clothing, Bottomless Closet also provides resume review and preparation, interview coaching, and workshops focused on personal and professional development. There are a number of ways to support the charity, such as donating workplace-suitable attire, volunteering your time and knowledge through mentoring or workshop facilitation, or simply offering a financial donation. We particularly love the idea of holding a clothing drive with your friends or colleagues.
New York Women's Foundation
"With fierce determination, we mobilize hearts, minds and resources to create an equitable and just future for women, families and communities in New York City." We couldn't have said it better ourselves! The New York Women's Foundation is an influential institution that supports organizations - through the provision of funding and grants - that work to secure economic certainty and justice for females of all ages. Identifying as a cross-cultural alliance, the Foundation has helped countless community groups across the city, including such groups as 'Girls for Gender Equality' and 'New Immigrant Community Empowerment'. The Foundation accepts monetary gifts, but can also be supported through volunteering or attending their events. You can also help further their mission by lending your voice and actions to the causes outlined on their 'Take Action' page.
Step Up Women's Network
One for the next generation of game-changing women! Step Up partners teen girls with professional women, providing them with inspiring after school programs and personal mentorship. Their mission is to leverage the expertise of our current generation's leaders and use it to empower future generations, encouraging them to graduate from school and college, and to pursue a career of their dreams. Their impact is suitably impressive - 98% of all Step Up seniors graduated high school in 2015 compared to a national average of 73%. Support can be offered in many forms - you can become a mentor yourself, attend or volunteer at their many inspiring events, or offer a monetary donation.
Don't forget, you can show your support to our give back partner by purchasing any AUrate design. For every piece of jewelry you purchase, an economically underprivileged child will receive a book.