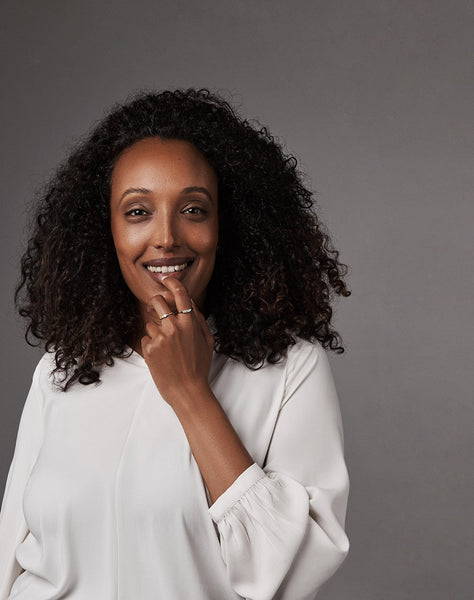 "My mother was my first example of female empowerment - she encouraged me to be fearless and independent, yet to pick my battles." 
Hey Winta, can you share a few words about yourself?
I learned to negotiate in Nigerian street markets, spent my formative teenage years in Singapore, studied emerging markets in New York, and encountered my first memorable patient in Eritrea. From a young age, I was forced to navigate various environments as an outsider, which taught me how to relate to people who were very different from me and also how to be comfortable with uncertainty. My family has been the one constant in my nomadic life - my parents instilled a strong sense of cultural and self identity in me, while teaching me about the virtues of compassion and commitment. I am the oldest of three girls - my two sisters are fierce women in their own right and a source of inspiration to me.   
What did 2018 mean for you?
This was a very special year for me (2018), arguably one of the most fulfilling, with the birth of my child, but equally the most demanding as I complete my final year in surgical residency with a newborn and several unanticipated challenges.   
What women have influenced/inspired you most in your life?
Being a working mother has made me really appreciate my own mother more than ever!  She was my first example of female empowerment - she encouraged me to be fearless and independent, yet to pick my battles. Her counsel has been relevant both in my new role as a mother and in my career as a surgeon.
What's the most rewarding part of your job? The most challenging?
It is a blessing to take care of patients and to have a job that fulfills me on multiple levels. I like that no day is mundane, but the physical and mental duress that can come from long days in the operating room can be exhausting.  
How do you balance your personal life and professional endeavors? What is your favorite way to wind down at the end of a long day?
I try to balance my busy work schedule with a healthy social life outside of work, I have an amazing community of friends and family that help to keep me grounded. Music is also my cure all - I love making playlists and discovering new songs to unwind after a long day.   
We dedicated you our Elemental Edition. Why do these pieces feel special to you?
I found the AUrate collection beautiful but not overstated. I really liked the subtle look of the pieces, but also find them to be quite versatile (something I can relate to)! I could see myself wearing them both at work and on a night out!
We proudly dedicated our Elemental Edition to Winta.