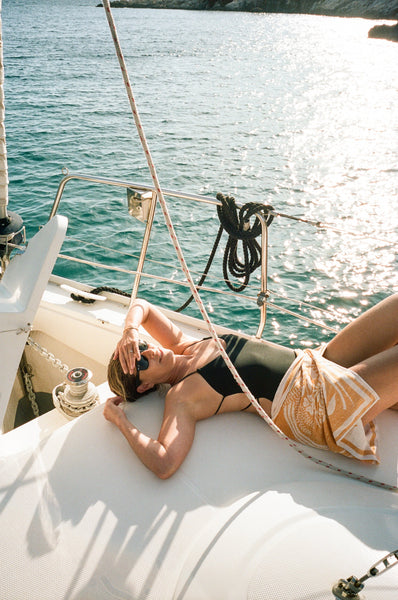 Amahlia Stevens gets it. Having lived most of her life bikini clad on the beaches of Southern California, she understands the importance of great fitting swimwear and highly functional yet chic day to night pieces. Add her love of the ocean combined with a background in design and viola! Vitamin A, Amahlia's swimwear company was born.
The first to elevate swimwear with a modern design, sustainable innovation, and simple clean yet sexy sophistication, Vitamin A created the ultra flattering LBB - little black bikini, as well as the iconic "California Cut". Ahmalia understands a woman's body, and how much Mother Earth needs us to source ethically. 
Name: Amahlia Stevens
Title: Founder and Creative Director of Vitamin A.
What did you want to be growing up? An artist.
What do you still want to be when you grow up? A dancer and singer.
What gets you out of bed in the morning? My twin girls. Literally (6AM wakeup, yes!) and figuratively. Becoming a mom brought a new level of purpose and passion to my "day job in so many ways.
What gets you into bed at night? My dear man and splurge worthy bedding.
Where is your favorite place? The ocean.
What makes you laugh? My kids knock-knock jokes and anything my brothers say when they're together.
What's on your bucket list? Experiencing some eco environment in "pristine" spots like The Galapagos, Fernando de Naronha, or Iceland.
Favorite piece of art? That's impossible, I don't have just one. Almost any print from Ellsworth Kelly, almost any "Homage to the Square" painting by Josef Albers. I am also very inspired by colors in paintings by Pierre Bonnard. Years ago on a trip to Milan, I purchased my first piece from a gallery. By Francois Berthoud, it was a linoleum print illustration of a long lace dress from the Dior runway, and it's definitely one of my favorite pieces.
Favorite past time? Dips in the ocean with my twin girls.
How do you stay motivated? 1. Iced teas 2. I love what I do, who I work and play with, and I just feel pretty grateful that everything thing feels so exciting to me so motivation isn't an issue.
What does giving back mean to you? Being a member of 1% for the planet so Vitamin A can help support those that do the most important work of protecting the environment. I was also blessed to have amazing mentors and teachers in my life, so I try to give back by mentoring students and aspiring designers.
What does being a female in your industry mean to you? Using my brand platform to help shape sustainable practices in the swim world while helping to empower younger women to feel confident, strong and beautiful - appreciative of their feminine curves + self perceived imperfections. Also realizing that while we all want to look our best, there is so much more in this world to focus our energies upon.
What's your favorite AUrate piece? That's as impossible as choosing just one favorite work of art! 1. Short Midi Diamond Hook Earrings 2. The Oval Swoosh Hoop in all sizes 3. Skinny Cuff... I could go on forever. I will definitely be ordering birthstone bracelets for my daughters once they are a bit older!