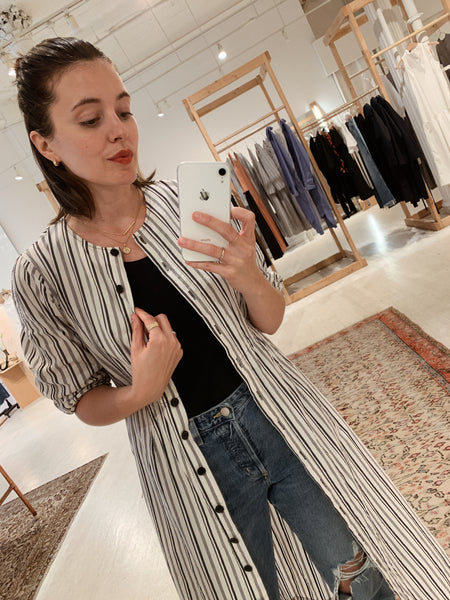 We have a theory that there are two types of shoppers. There are those who aimlessly wander and happen to find hidden gems of stores filled with dream wardrobes to make even the best Parisian vintage stores shake in their gently worn Chanel boots. And then there are those who are the purposeful shoppers — the ones who saw those same boots online, researched which store had their size, and called ahead to have them at the register. They are driven and precise, and each purchase holds just as much meaning as Madame Aimless Shopper's.

When we first stepped into ANTHOM in NYC's Soho, we knew we'd found the hybrid of purposeful pieces with an elevated sense of inclusion. The shop doesn't cater to one type of shopper or woman, all are welcome and all are expected. So, naturally, we wanted to get to the bottom of this shopping utopia and meet the woman behind the changing room curtain.

The fist thing that comes to mind when meeting Ashley Turchin, is rule-breaker. Despite co-founding ANTHOM, she does not have a background in fashion or merchandising and actually began her career as a lawyer. Her favorite book is Crime and Punishment yet she is a silly soul through and through. We quickly found that just as ANTHOM is breaking the boutique mold, Ashley is doing the same each step of the way.

Name: Ashley Turchin
Title: Co-Founder of ANTHOM
What did you want to be growing up? I used to dream about dancing on broadway. I would also dream about having a store. Then there was a phase where I thought I wanted to be a Governor... and eventually to practice law. 
What do you still want to be when you grow up? Who knows what the future holds. ANTHOM keeps me on my toes and I'm continuously learning, which I love.
What gets you out of bed in the morning? The automated coffee pot at 5:30am. 
What gets you into bed at night? Oh, I get myself in bed. If I'm good at one thing, it's my ability to fall asleep in under 20 seconds.
What makes you laugh? I have the silliest humor, its ridiculous. Someone could say the word 'fart' and I'll giggle. 
What's on your bucket list? My husband and I would love to visit New Zealand at some point, and take the Lord of the Rings Tour through Middle Earth. 
What is your favorite book? Crime and Punishment by Dostoevsky.
Favorite piece of art? I have many, but Blue Nudes by Matisse contributes to my love for silhouettes. 
How do you stay motivated? It can be challenging at times, but our dedicated and positive team keeps me motivated. 
What does giving back mean to you? I think connecting with people and forming community is a powerful way to spread love. 
What does balance mean to you? Working in fashion and retail makes balance extremely difficult because its an emotional roller coaster. This industry is always changing, it's very physically demanding and we're always working towards the next thing while juggling a million other things. You really have to love what you're doing and stay positive despite sometimes feeling defeated. Building a great team helps, and forcing yourself to take time for yourself is imperative.
How do you break the rules? I didn't study fashion design or merchandising. We break all the text book 'rules' and are building our company from the inside out by focusing on whats working and fixing what's not despite what the majority of the industry may be doing.
What does being a female in your industry mean to you? One aspect of our company that's really made me think about gender roles is real estate. Being a female tenant in overpriced, competitive, male dominating SoHo has been very eye-opening and I've learned a lot about myself.
What's your favorite AUrate piece? I'm loving the Infinity Ring and the subtle statement it makes.